Picture it: You wake up in a hotel or just in your home and see that it snowed overnight. Of course, it's sunny, and the roads are clear as you head to work or on your journey to a holiday spot. However, you get to the car and see that the snow has frozen over. You pop the boot lid to get your ice scraper, but you can't find it. You realize you never bought a new one or never had one to begin with and now you wonder what to do.
Without a snow brush/scraper, you use your arm. However, you're running late (either for work or to get back on the road), so you just clear the windows. You hop in the car, start it up, and head down the road only to find that the frozen snow on your roof now slides onto your windshield. Your first thought is to turn on the wipers, but it can't break up the snow and does damage or breaks the wipers. This is a scenario that happens more frequently than you think, but it can be avoided with the right tools.
It's not illegal to drive with snow or ice on your car, but if you find yourself in this situation where your ability to control the car is compromised by ice and snow you didn't clear – you'll be wishing you'd brought these winter motoring essentials!
Your Winter Car Kit Must-Haves
Ice Scraper / Snow Brush
The first thing you should do is buy a sturdy ice scraper with an included snow brush. You should keep it in your vehicle at all times. You may want to consider purchasing one to keep in your house and one to keep in the car. That way, if the windows and trunk are frozen shut, you can still start scraping away.
It is recommended to clear the whole car and remove all the ice and snow before you start driving. Otherwise, the snow/ice still on the car can fly off your vehicle and damage another car, or it could obstruct your view.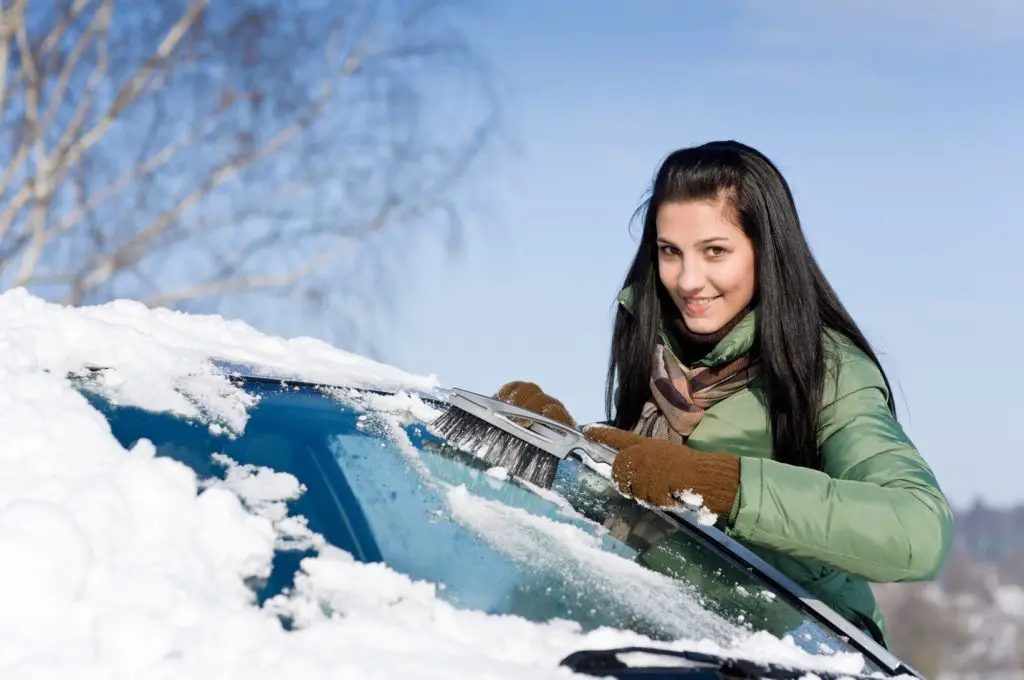 Shovel / Kitty Litter
You never know when you're going to get stuck, even on the freeway. If enough snow hits and the temperatures drop, you could get stuck. You can shovel yourself out of a bind with a collapsible or small shovel. Keep it in the trunk, so it's there if you need it.
Because your tyres aren't likely to get traction after getting dug out, you may want to have sand, kitty litter, or rock salt in the trunk, as well. They're coarse, and they give your tyres traction. Just spread a little bit of the material of your choosing near the tyres and throughout the car's path to help you get going and get out from being stuck.
Winter Clothing
While your car is toasty warm, you never know when your vehicle will die on the side of the road. You don't want to freeze or be uncomfortable until a tow-truck can arrive at your aid. Consider having another pair of warm gloves, an extra coat or some sweaters, and some hand warmers. You might also want to keep a blanket in the vehicle. That way, you don't have to rely on your vehicle's heater to keep you warm, especially if the car doesn't start.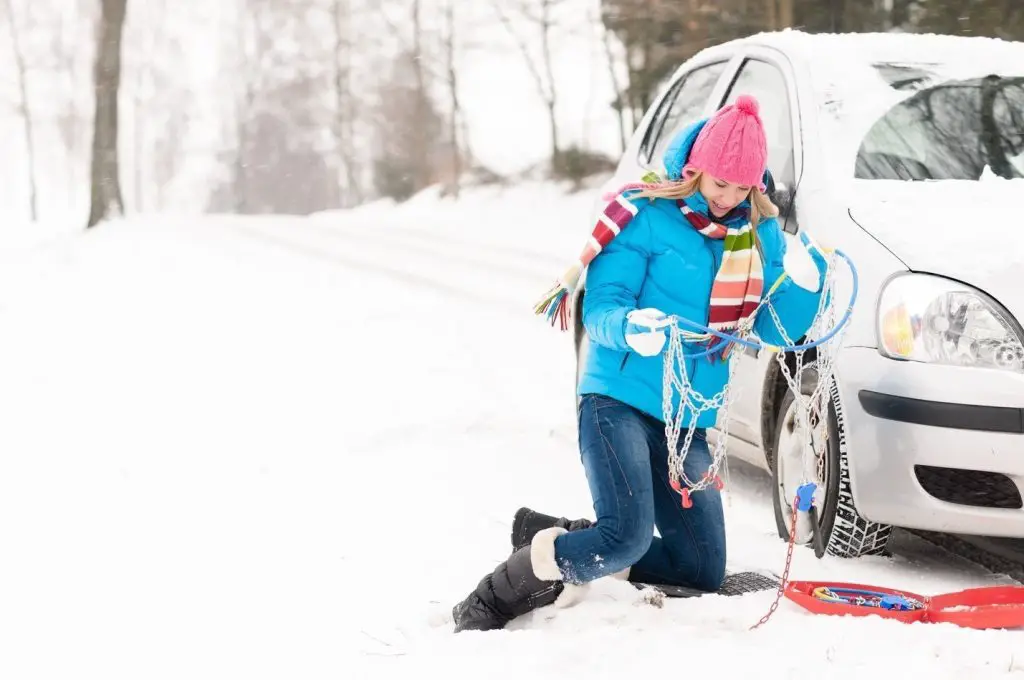 The Little Things
While they may seem little, they can be a big help if you get stranded. Things like a handheld wind up torch or battery torch, jumper cables, first aid kit (a toddler first aid kit for the little ones), tool kit, cell phone charger, a thermometer, snacks, and sunglasses can all help you feel a little calmer if you get stuck or have car trouble. The cell phone charger could be a lifesaver if your phone runs out of juice and you're stuck, which means you can't call for help and have to rely on the kindness of strangers, which isn't safe. You also need snacks and water on hand so that you don't get hungry and start shivering if it's going to be a while before the tow-truck gets to you.
FAQs
What should you have in your car in case you get stuck in the snow?
1. Snow shovel
2. Ice scraper
3. Snow brush
4. Traction aids
5. Tow rope or straps
6. Jumper cables
7. Flashlight and batteries
8. Road flares or reflective signages
How do I prepare my car for a blizzard?
Ensure that your vehicle has adequate levels of fluids, including engine oil, coolant, and windshield washer fluid. Use fluids appropriate for cold temperatures and follow the manufacturer's recommendations. Have your battery tested to ensure it is in good condition and can handle the demands of starting in cold weather. Clean the battery terminals and ensure they are securely connected. Ensure your tyres have sufficient tread depth and are properly inflated. Consider using winter tyres for improved traction in snow and icy conditions. Ensure that all lights on your vehicle are working properly, including headlights, taillights, brake lights, and turn signals. Replace old or worn wiper blades to ensure clear visibility during snow or rain. Consider using winter-specific wiper blades. Maintain a sufficient fuel level in your vehicle, especially before a blizzard. Aim to keep at least half a tank of fuel to prevent fuel line freezing and provide a buffer in case of unexpected delays or diversions.