Buying a car is very exciting but at the same time overwhelming most especially if it's a used car or a second-hand car. It is confusing in a sense wherein you have to consider a lot of things but it doesn't always have to be that way. Even though brand new cars are enticing and it offers various choices, second-hand cars or even third-hand vehicles are still compelling. In fact, for a budget-conscious buyer, pre-loved cars are good options too.
First, if you've wanted a particular model you wanted so much several years ago, perhaps you can get that model at its depreciated price. This is where used car dealers are the right go-to partners you can lean on when buying "pre-loved" cars. These guys know how to assist you in giving you the best deals based on what you need in a car and that's in line with your budget. Of course, you really need to partner up with a good one to get your dream car.
But before you purchase a second hand car, you should always consider to take some time to think it through. Unlike buying a brand new car, with which you expect to be running perfectly, some second-hand cars may have disadvantages too especially with its engine and parts. You need to check the exterior, interior and most of all underneath the hood to make sure there aren't any major problems. A used car's reliability depends on several things like the manufacturer's engineering standards, the mileage on the car, and the previous owner's driving and maintenance habits. Car history is very much important before taking the leap on buying the car and you might get to negotiate a reasonable price before coming to a final decision.
Below is a helpful infographic checklist for second hand car buyers to guide them on what to check when viewing a used car.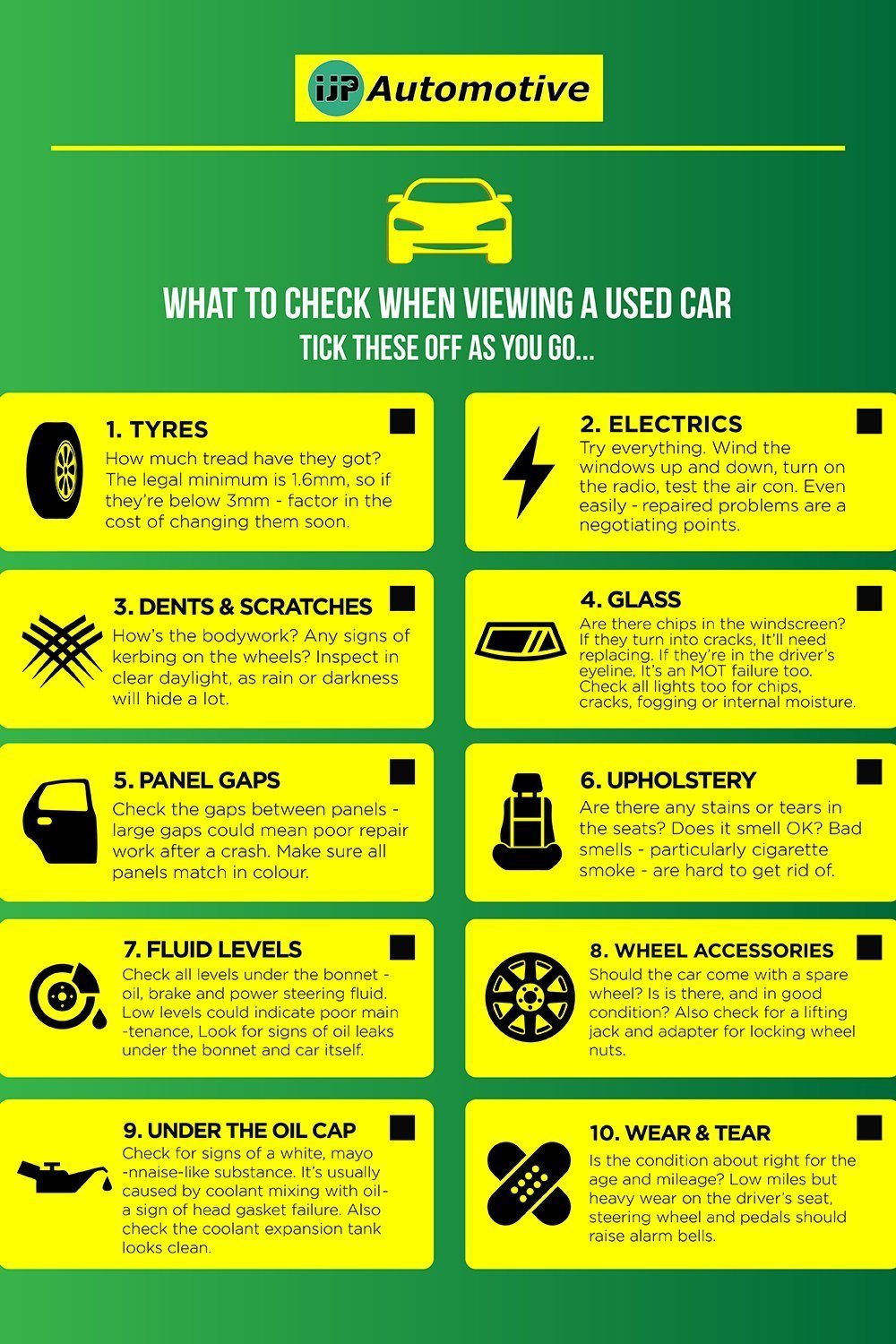 Once you owned a second hand car, keep in mind to always keep it almost perfectly running.  Of course used cars need to be taken care of. You could utilise basic car maintenance in your own garage like changing your oil, checking your tyre pressure and getting scheduled monthly or annual inspections. However, it would be best to have the work done by reliable car doctors to help you with your routine vehicle maintenance.
If you're looking for a local garage near Barry, IJP Automotive is your go to garage. At IJP Automotive, your car is well taken cared of.
FAQs
What are some red flags when buying a used car?
1. Incomplete vehicle history/inconsistent vehicle information
2. Odometer discrepancies
3. Poor maintenance/signs of excessive repairs
4. Multiple ownership
5. Unusual noises
6. No test driving or inspections allowed
7. Very low pricing
How many miles is too many for a used car?
The number of miles considered "too many" for a used car depends on several factors, including the car's make, model, age, maintenance history, and overall condition. It's important to assess the overall condition, maintenance history, and reliability of a used car, rather than solely focusing on mileage.